Glulam (glued laminated timber) is a stress-rated engineered wood product comprised of wood laminations, or 'lams' that are bonded together under high pressure and heat with strong, waterproof adhesives.
Glulam components can be a variety of species, and individual 'lams' are typically two inches or less in thickness, the resultant product is strong, stable and corrosion-proof with significant advantages over structural steel and concrete.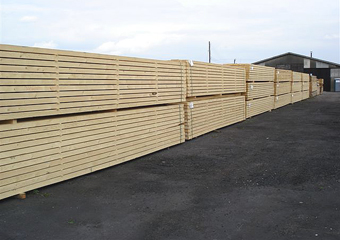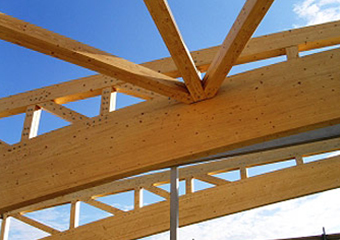 Glulam Advantages Include:
Environmentally friendly - Timber is a renewable source of material & glulam beams take less energy to make than their concrete & steel rivals leaving no pollutant by-product. The insulation property of timber eliminates the risk of cold bridging, where the frame may penetrate external elements of the structure. Its low thermal mass helps reduce fuel bills by absorbing little space heating energy.
Strength to weight ratio - Much lighter in comparison than an equivalent concrete or steel beam.
Economical - A direct cost comparison shows that it is competitive with other structural materials; and the lower weight of glulam leads to savings on foundations, transport and erection.
Chemical Resistant - Timber and the synthetic adhesives used in bonding glulam have a remarkable resistance to chemical attack and therefore glulam is often chosen as the preferred structural material for buildings such as salt barns, water treatment plants and swimming pools etc.
Good Looking - The natural appearance of glulam is sufficiently attractive to make it eminently presentable without cladding. Used as exposed beams, glulam adds to the aesthetic appeal of a structure and can be curved as well as straight.
Versatile - Glulam can be used for roof, lintel and floor beams, columns and rafters in almost any type of structure.
Approved - Our glulam beams are made in Germany in accordance with the following EU Standards; EN 338, 386, 387, 390, 391, 1194
Wood Specie - Nordic Spruce
Quality Classes - BS11 (GL24) Standard On request also BS14 (GL28) BS16 (GL32) & BS18 (GL36)*
Grading - Mechanical strength grading EN 338
Lamella - 40mm standard (30-42mm)*
Moisture Content - [10+/-2%]
Glue - Melamine resin (light glue join) on request resorcinol resin possible.
Surface - Planed on 4 sides, bevelled edges.
Packing - Plastic wrapped packages, individual shrink-wrapped possible.
*On request with certain sizes